Kate Brooke, Opossum Track Press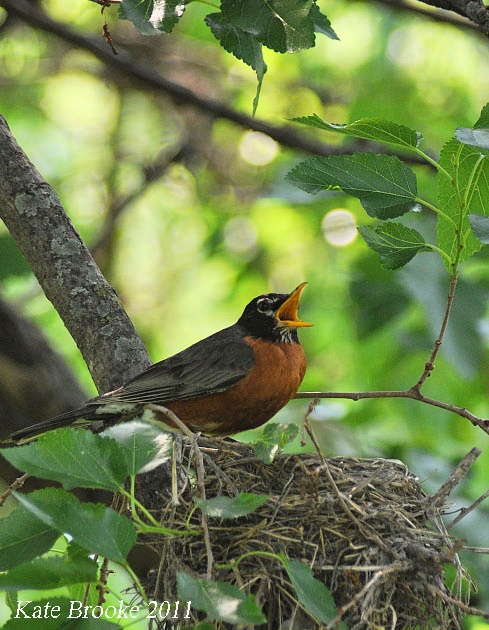 Most days you are likely to spot me out walking, dog at my side. On average we log twenty-five miles each week. A poet friend was aghast when she heard how much walking and dog training I do: How do you find the time! was her response. For me, the question is, how not? On my walks I might discover polyphemus moths on a rainy sidewalk beneath an oak, or I might spot a young Great Horned Owl being harrassed by grackels and jays. I might find a wheel bug near the playground and transport the odd creature with its legendary bite far from where kids play. During my walks I feel the wind quartering, and sometimes I am soaked by the rain. I watch the flickers with their white rump patches and listen for the catbird trying to fool me from deep in a bush. I wave greetings to familiar human faces on the trails. Each day, January or June, I am struck by the beauty in trees and skies or in the footprints of a raccoon next to the sidewalk in a low, wet area. These are the prompts from which I work: the content, textures, patterns, and discoveries that give me reason to put ink onto paper.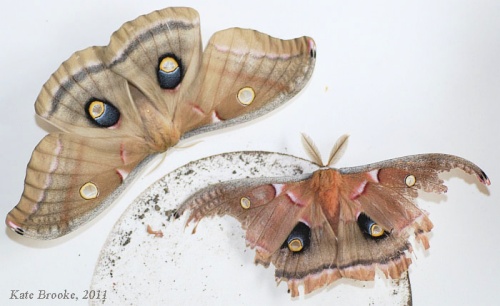 Above: polyphemus Moths. The male's wings are in shreds, but still he flew away when released the following morning. Below is a caterpillar from their mating.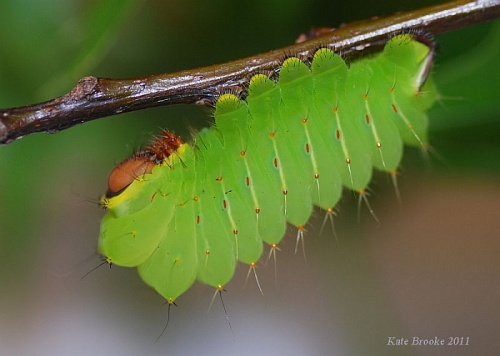 Please click on "Gallery" to see a selection of art work, or click on Flora & Fauna to see very large caterpillars.
Copyright 2011 Kate Brooke
Please contact the artist to obtain permission to use images from this site.